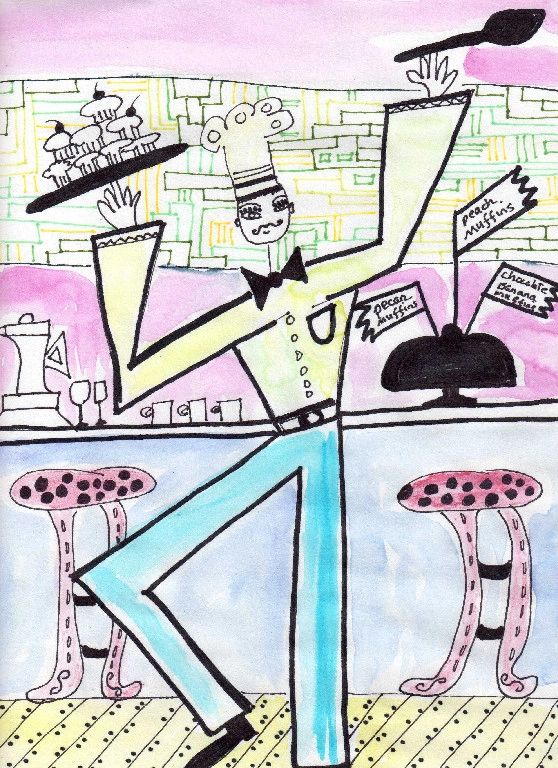 Hugo first baked, not for humans, but for ducks. Yes, ducks.
At the age of four he awoke very early one December morning to find mother nature had dumped about six inches of new snow on upstate New York. The family had five pet ducks who lived outside in an enclosed courtyard. They had their own, unheated, roost, but Hugo knew the ducks had to be hungry and cold. No one else was awake so Hugo went off into the kitchen to fix the ducks something warm to eat. He had seen his mother make amazingly delicious corn bread and corn sticks many times. So corn sticks was the plan. Flour and corn meal were added to water and baked until hard. Yes, that's not how to make corn sticks but the ducks didn't know that. In fact, they looked like they enjoyed those warm cement-like treats. At that moment Hugo's love for making magic in the kitchen was on!
Years later, now in Saint Augustine, Florida, Hugo lived in an apartment building downtown where he started baking muffins that came out of a box just for himself. He added extra blueberries and some vanilla extract to the mix and used only egg whites and extra light tasting olive oil to make them healthier. Soon, neighbors would suddenly arrive at his front door when that heavenly smell wafted through the building. When the batches of muffins started getting up to four dozen at a time he started making them from scratch from a recipe found on the internet.
In 2008 Hugo started working for Yvette Shindler at the Present Moment Cafe as a barista. The muffins quickly became a favorite of the employees and Hugo would sometimes give one to special customers as a "thank you". Soon the customers started asking for the muffins to be sold at the market. Hugo worked with the wonderful owner of the Chill Grill, Luis, to use his commercial kitchen to produce and sell muffins. It was during this time the owner of the Present Moment Cafe decided she wanted only vegan offerings in the building. In a short time Hugo was producing light, fluffy, delicious and healthy vegan muffins. Then the requests for gluten free muffins came rolling in and that started that ball rolling. Once the Present Moment started selling 25 - 35 dozen muffins a week Hugo had to start looking for a larger kitchen.
In came The King's Bistro. Owners, Michael and Judith were open to the public only Friday, Saturday and Sunday from 11am - 9pm. They allowed use of their kitchen all of the hours they weren't open to the public.

When the building next door became available, I took it.
Hugo's Muffins found a home of it's own.
We opened to the general public for a whole six days.
A decision was made. The retail equipment was sold and we made the building a 680 square foot kitchen,
one of the happiest places on earth.